Experience Abilene and West Texas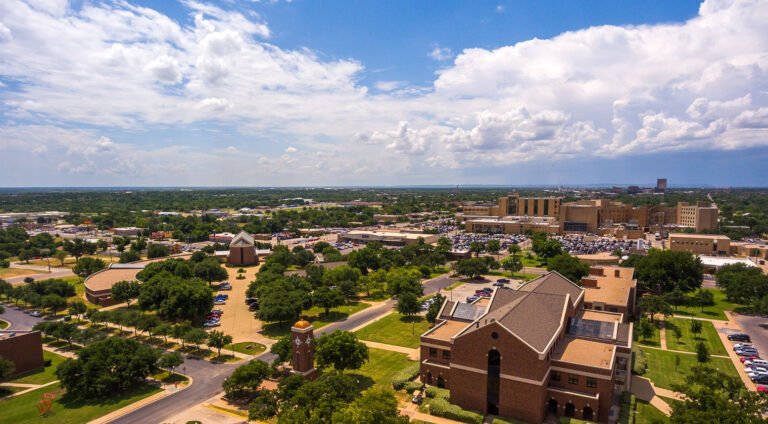 When you attend Hardin-Simmons University, you'll not only enjoy a world-class educational experience at one of the best universities in West Texas, but also a community and cultural atmosphere unlike any other.
Settled deep in the heart of Texas, Abilene offers small-town vibes with the comforts and entertainment of a big city. From our historic downtown and chic restaurants to our art museums and excellent hiking trails, Abilene has something for everyone. Whether you're visiting or moving here, you'll quickly see what makes Hardin-Simmons University one of the most scenic and exciting West Texas universities.
Where the Old Meets the New
The Old West and the modern world don't just exist together in Abilene. They thrive together in Abilene. Take in the vast blue sky as you explore downtown, dive into Texas history, and catch a hit Broadway show — all within a short walk from HSU!
Learn What Makes Texas Wild
Abilene has museums, exhibitions, and sites unlike any West Texas college town… or any college town, really.
Exceptional West Texas College Culture
After you're done taking a walk on the wild side, stop into one of the many art galleries and museums that make us one of the most culturally diverse colleges in West Texas.
Offering a unique combination of history and art, the Grace Museum will wow you with its architectural beauty and exquisite art exhibitions.
Whether you're an art lover or a burgeoning artist, you'll love the exhibitions and community education programs available at the Center for Contemporary Arts. With free admission and commitment to educational enrichment for everyone, the Center for Contemporary Arts represents everything that makes HSU one of the most accessible West Texas colleges for art enthusiasts.
Perfect for families with young children, or anyone who appreciates high quality illustrations and artwork, the National Center for Children's Illustrated Literature collaborates with award-winning illustrators to produce engaging exhibitions for the child inside of everyone.
Take in a Show
HSU prides itself on being one of the most artistically diverse universities in West Texas, and the city of Abilene helps us remain a hub for entertainment and culture.
From blockbuster movies to live productions, the historic Paramount Theatre will dazzle you with its own beauty and the entrainment it offers every day. After the curtains close, you'll walk out into our meticulously restored historic downtown.
Treat your ears to beautiful classical and contemporary music of any genre at the Abilene Philharmonic. Since 1950, the Abilene Philharmonic has brought award-winning music to Abilene and helped HSU remain one of the most musically rich universities in West Texas.
Deep in the Heart of Texas
Locals like to say that "all roads lead to Abilene" and they're not wrong. Hardin-Simmons University is at the crossroads of many major highways and interstates that lead throughout Texas. This means that, unlike many colleges in West Texas, HSU is easily accessible for students and visitors from across the state and the country.
It also means that a big city experience is never far away. Our West Texas college is just a couple of hours from the Dallas-Fort Worth area, the state's capital, Austin, and historic San Antonio. We are also just a 3–4-hour drive from nearly all of Texas' large cities.
HSU is one of the most accessible universities in West Texas thanks to the Abilene Regional Airport, which offers service through American Eagle to DFW airport, making national and international travel a breeze.
A True West Texas College Town
Abilene boasts five institutions of higher learning, totaling more than 10,000 students. This means that you can enjoy a vibrant night life, join an enlightening study group, and make lasting personal and professional connections, all without leaving the town. As a student at HSU, you'll also be part of the oldest university in Abilene, and one of the oldest colleges in West Texas.
One of the Most Diverse Universities in West Texas
Abilene offers a unique combination of local college campuses, Dyess Air Force Base, and an office of the International Rescue Committee, which resettles refugees from around the world. This combination of institutions brings a diversity of cultures and ethnicities to Abilene.
Hardin-Simmons contributes to that diversity with international students representing 26 countries, from Belize to Zimbabwe, making HSU one of the most diverse West Texas universities.
Achieve More with Professional Resources
In addition to our rich cultural offerings, Abilene's many businesses and nonprofits offer unique professional opportunities for HSU students. Whatever your major is, you'll have plenty of chances to gain real-world internship, volunteer, and work experience that will help you advance you career after graduation.
Hardin-Simmons faculty and staff are experts at helping connecting students with the right business, church, medical facility, educational venue, or nonprofit organization to gain valuable experience before graduating.
Explore Hardin-Simmons University Today!
As a student at Hardin-Simmons University, you'll benefit from the many sites, attractions, and cultural offerings available in Abilene. You've only just scratched the surface of everything you can do. Check out the Abilene Convention and Visitors Bureau to learn more about what makes HSU one of the most entertaining colleges in West Texas.