Hardin-Simmons Hosts First Annual HSU Symposium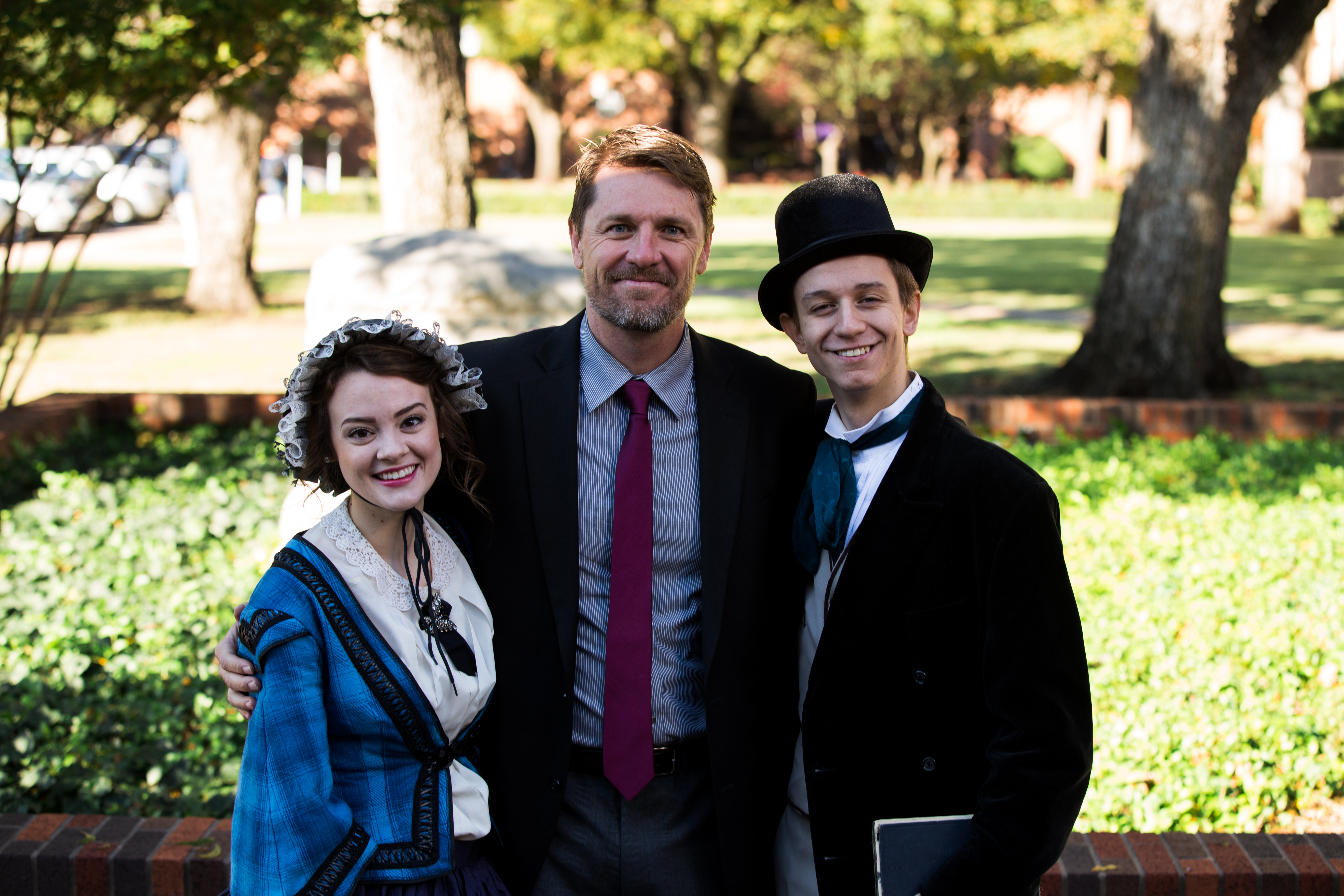 Hardin-Simmons hosted the first annual HSU Symposium in conjunction with Community Coffee Hour on Thursday, November 1st. The symposium took place in Moody 108 from 9:30 a.m. to 10:30 a.m. and included research presentations and a live reenactment of James B. and Mary Simmons.
The goal of this annual symposium is to celebrate "the benefits of collaboration, student research, and the impact of the Simmons' story," according to Mary Burke, special collections manager of HSU libraries. The event is part of an ongoing effort to maintain the university's mission while university leaders focus on enrollment and advancement. It follows the naming of Dr. Travis Frampton as HSU's vice president for university mission and strategic vision, which is an effort to further Simmons's concept of Christlieb within the context of university growth.
The symposium features various research projects from groups of first-year seminar (FYSM) students. Attendees are encouraged to view the submissions and vote for their favorite through the HSU app, and the presentation with the highest number of votes will receive a prize the week following the event.
When walking into the symposium, students were met with posters of Simmons's famed questions, "what is the greatest thought that has ever occupied your mind? What is your duty toward fulfilling it?" Tables set up in a u-shape housed nineteen diverse projects from groups involved in FYSM classes. Presentations dealt with topics like philosophy within J.R.R. Tolkien's "Lord of the Rings" novels, history of athletics programs at HSU, creativity through reimagined Pixar films, and history of HSU's important figures through geocaching in Abilene.
At 10:05 a.m., HSU theater students Michael Kelly and Bridgett Mistrot performed a live reenactment of James B. and Mary Simmons near the Simmons' graves in front of the Moody Student Center. Complete with period costumes and a horse-drawn carriage, the reenactment included a portion of Simmons' famous 1861 abolitionist speech, "Cause and Cure of the Rebellion," which was delivered by Kelly.
Simmons, a pastor and significant benefactor of the university, traveled to Abilene Baptist College in 1890 to act as a fund-raiser for the school. Simmons saw potential in the proposed location of the college and decided to contribute from his own pocket; he gave an initial donation of $5,000 to finance the completion of Old Main, the original building on campus. Over the years, the Simmons family would donate over $20,000 to projects at the school. The generosity of Mary and James Simmons extends far past the forty-acres. Though they chose this campus as their final resting place, Rev. Simmons helped to form nine other colleges and seminaries across the country. Their legacy is one of giving to and supporting Christian higher-education.
Mary Burke urges the HSU community to continue to take part in this new tradition, stating that "by attending this event, you are empowering students; reminding them that their work is important; their voices and findings are important." Those who attend in the coming years will be eligible to receive chapel credit for the event.